Something about the new releases from Sn@tch that got me in a "Who Framed Roger Rabbit" kinda mood.  How?  Let me show you the ways…. First off is this  gorgeous rigged hair from Sn@tch called  "Mallory."      The soft falling waves reminded me of the silky long looks the animators gave to Jessica for her scene in the speakeasy club.     This hair comes in two sizes and lots of wonderful shades.  Try that demo to see which color is all you.
Next is the amazing "Hari Sequined Party Dress."     This is one super sexy number, shimmering glittery sparkle all over with a daringly bare, back panel.   This one comes in 7 mesh body styles and in 30 colors to keep this dress fresh for any party you attend these New Year's season.
I checked in to pick up these lacy stockings from the weekly Sn@tch and Grab.  The "Rose Bridal Laced Stockings" are as beautiful as they come.  Classic Body? Don't despair these come with system layers and Omega Appliers.  24 colors to give your outfit that extra oomph!
I LOVE these shoes. The newest footwear from Sn@tch is these "Shona Satin Ribbon Heels."  The chunky heel goes perfectly with the platform to give you a sleek and sexy footwear design.  The rhinestone detail across the vamp gives adds that touch of glam every girl wants. There are 30 colors in the HUD for these and they come in Maitreya, Slink and Belleza body styles.
 
Make sure to check out the detail pictures for the Sn@tch Vendors for easy shopping. Check out head to toe details below also!
Photo Taken at Nightmare in New Orleans, The Cat's Meow Jazz Club, courtesy of MadPea Games.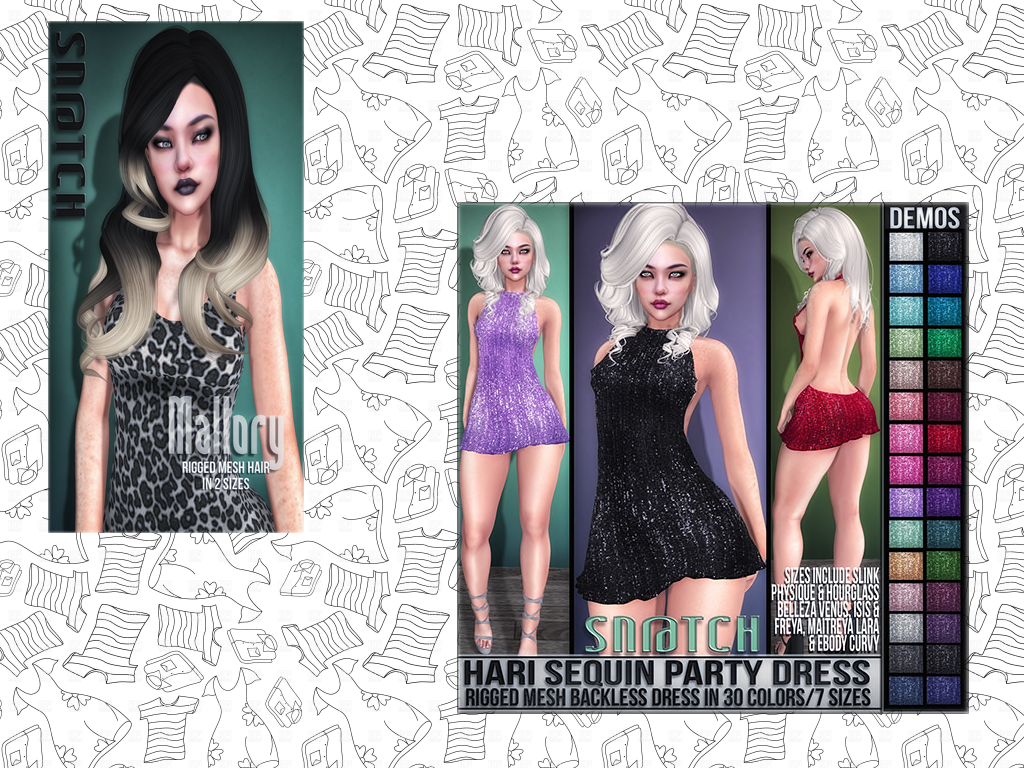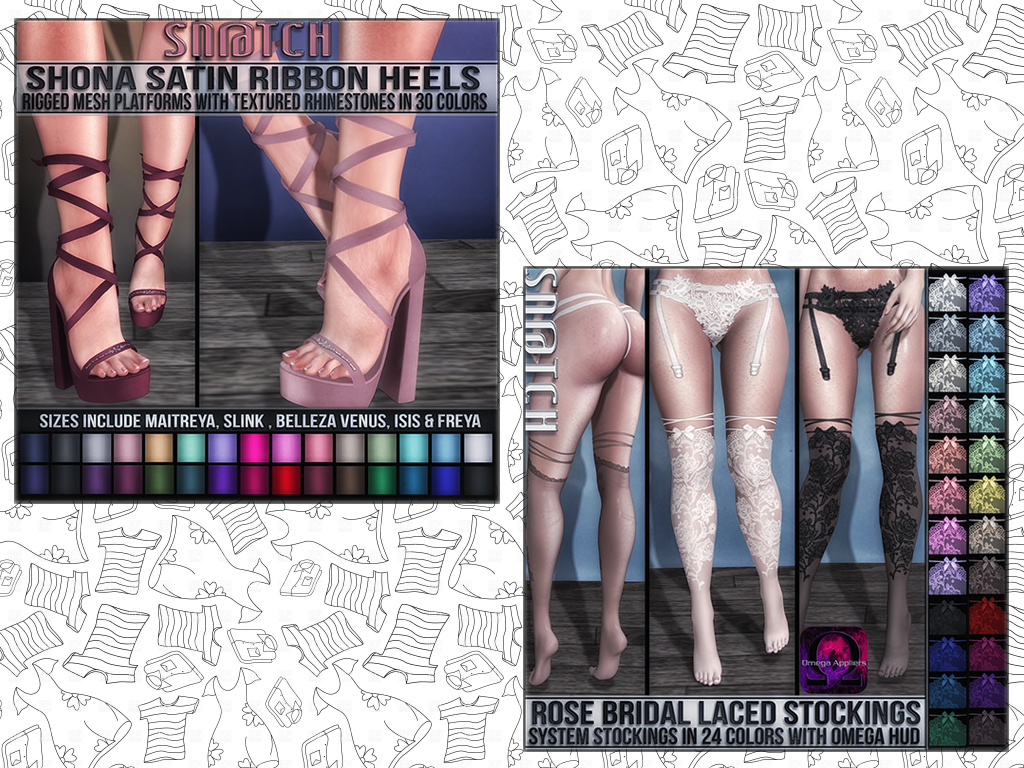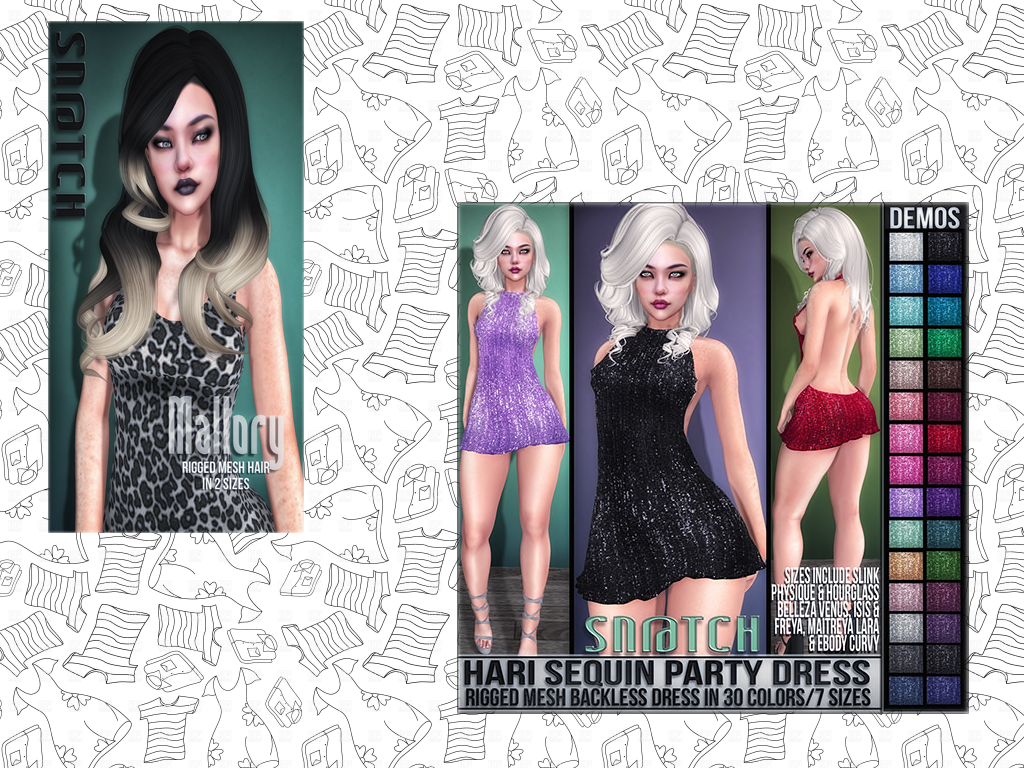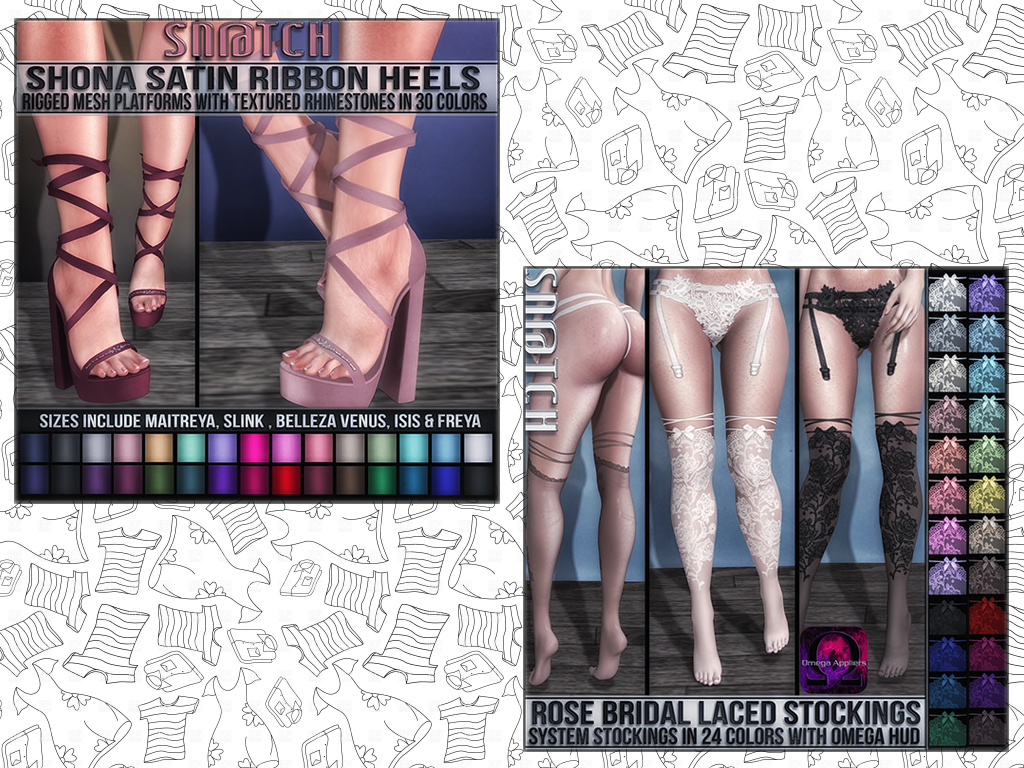 Sangi Head to Toes:
Body, Hands, and Feet: Maitreya Lara
Shape: Sangi's Own Creation
Head: Catwa
Skin: Lumae
Ears: Mandala
Lips Eye Shadow: #Adored
Ring: On a Lark *OAL* Lover's Ring Hers – Forever and A Day Silver
Gloves: MMC