Fall is in the air, in Idaho that means cooler temperatures and rain, lots and lots of rain. The high today is only supposed to be 65° F which beats the hell out of 95°. It was so hot this summer I thought my internal organs were making a stew. I'm so happy about the cooler temperatures but I am not happy about the fact that soon it will be winter and there will be snow again.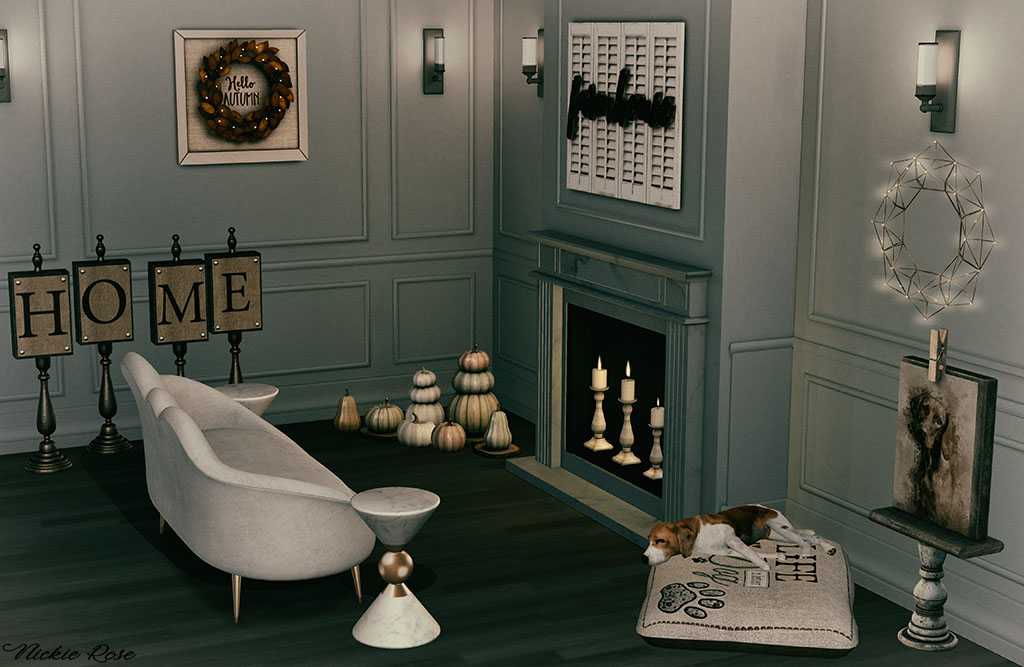 When I saw some of the items from What Next that had been re-added to Blogotex I was extremely happy, it meant that I could create my fall home with ease. All the items in this post from What Next is available at the main store and MP locations as they are older items but they are so much fun I couldn't resist them. 
First, we have a gorgeous gourd and wall set. This set includes 3 candlesticks, one large and one small gourd tower, the farmhouse wall decor in two versions, and a log stand (not pictured). This set is beautiful and perfect for creating a homey, fall scene. 
Farmhouse Decor: What Next - Fall Farmhouse Decor Set Candlestick 1 
Fall Farmhouse Decor Set Candlestick 2
Fall Farmhouse Decor Set Candlestick 3
Fall Farmhouse Decor Set Gourd Tower 2 Small 
Fall Farmhouse Decor Set Farmhouse Wall Decor 
The second item I have from What Next is the beautiful wreath decor on the far wall. This wreath set includes lit and unlit versions, large and small, as well one with a frame. If you choose the frame version it has a texture change script for the frame, mount, and wreath. It's a lovely touch to a fall home.
Wreath: What Next - Hello Fall Framed Wreath Lit
Marketplace δ Flickr δ Group Join
Chez Moi is at this round of Collabor88 with this beautiful couch collection. This set comes in adult or PG, includes a geometric table and lighted wall star. This set is beautiful and the sofa comes with a HUD that includes 4 color options. 
Sofa Set ♥new♥: Chez Moi - Cloud Couch Set with Geometric Table and Wall Star - Collabor88 (September 8 - October 6)
Marketplace δ Flickr δ Group Join
Serenity Style is at UNIK Event with this brand new gacha. This gacha set includes 7 commons and one rare. I just love this set. They are really small and when rezzed out each piece is 1 to 2 LI. You can resize this but when you change the size it will change the LI. 
Picture Holders ♥new♥: Serenity Style - Nicolle Picture Holder Off White and HOME Rare - UNIK Event (September 7 - September 30)
Marketplace δ Flickr δ Group Join
Serenity Style Nicolle Picture Holder Gacha Key
My cute little pup is from TLC and is at Flourish Sales Studio. Flourish is now a monthly event. Starting today, September 10 you can visit Flourish and get amazing deals on new and old items. Everything is priced between 75 and 99L. This cute little dog bed includes a petting animation. 
Dog Bed: TLC Home Collection - Lazy Dog Bed - Flourish Sales Studio (September 10 - October 4)
I hope you enjoy the autumn coming to your area and if it's not autumn yet it will be soon (I know you southern hemisphere people are just going into spring but still!) Have a wonderful day and a bright and cheery fall.